Impact
PathForward Is Much More Than A Shelter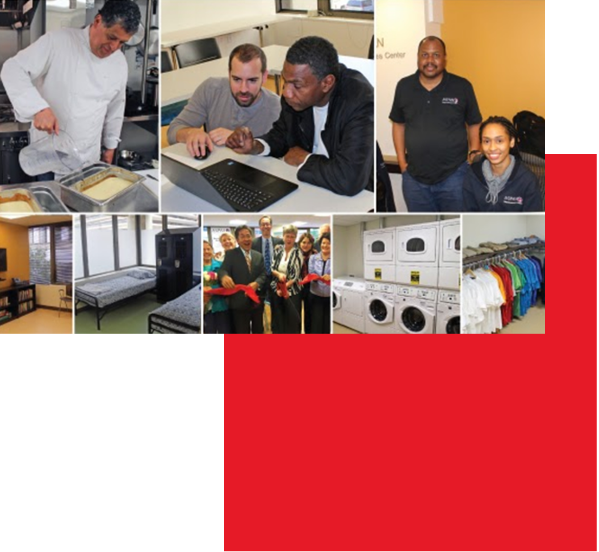 Arlington's Homeless Services Center: Much More Than A Shelter
PathForward has the plan, right people and partners, and a powerful resource in the Homeless Services Center (HSC) to move people from streets to stability. The Center is more than a shelter. It is a 24/7 year round Center that houses all of PathForward's supportive services under one roof. It shortens the time it takes to move a homeless individual or veteran from homelessness to stability, whatever that may mean for that person. PathForward and partner organizations in Arlington's 10-Year Plan to End Homelessness get results. It is the right thing to do. It is cost effective. It is happening – Arlington was one of the first counties nationally to end veteran homelessness. We have reduced chronic homelessness by 64%  since 2013. With a "Housing First" model and a range of around the clock supportive services, we will end homelessness in Arlington.
Click on a pin to discover our who our partners are and to learn more.
Total People Housed since 2007



People Served at Homeless Service Center*

*For Fiscal Year 2022 - July 1, 2021 to June 30, 2022.
The AFAC and PathForward collaboration has a long history. In the early 90's, PathForward shared offices with AFAC in South Arlington. Today, AFAC is a critical partner, serving as the food supplier for the Homeless Services Center and many of our clients in housing who have limited income. Their generous support provides PathFoward with nutritious food items for the full production kitchen at the HSC, where we provide three meals a day for our clients. This partnership alleviates the burden and expense of purchasing food for the Center, allowing PathForward to ensure financial support of other life-saving programs for our clients.
Emprowering people from streets to stability with the
PathForward
Continuum of Care
Click on a service to learn more
Click On A Service Below To
Watch Our Videos
Housing – Rapid & Permanent
PathForward has several housing programs for homeless Arlington residents.
PathForward's continuum of care works together towards one goal: helping each person find their pathway to stability. For those who can be housed, our housing programs are "Housing- First," meaning PathForward quickly and successfully helps individuals and veterans get into permanent housing without any preconditions or barriers, such as requiring sobriety or service agreements. Our case managers then provide ongoing support, help link clients to resources in the community, rebuild their lives, retain housing, and prevent a return to the streets. Because of the close care our case managers provide, our supportive housing programs have a 95% retention rate. Our clients move on with their lives thanks to our programs – reconnecting with family, working, going to school, being valued members of the community. And it all starts with: Housing. First.
For general questions, please email or call Ayana Bellamy
at abellamy@pathforwardva.org or (703) 228-7840.
To learn more about specific programs, click the links below:

Permanent Supportive Housing – A long-term housing and case management program for chronically homeless individuals in Arlington County. First provides housing for people who are chronically homeless and suffer from substance abuse and/or mental illness. After clients are housed, PSH provides ongoing support to help clients retain housing through assistance with daily challenges, financial literacy training, assistance with budgeting, and so on.

Rapid Rehousing Program – Collaborative, county-wide programs that provide rapid re-housing placement, eviction prevention, utility assistance and case management to households already experiencing homelessness, or those at risk of homelessness. PathForward has provided housing to over 400 individuals and veterans through all of our supportive housing programs.
According to Arlington County's latest Point-In-Time Count, 135 single adults remain homeless. PathForward is committed to finding the right housing solution for everyone remaining on the streets, and staying in shelter today.
Community Mobile Medical and Nursing Services
PathForward provides free medical services for homeless Arlington residents at the Homeless Services Center
For general questions, please email or call
Kasia Shaw at kshaw@pathforwardva.org or (703) 228-7854
PathForward's Nursing Services Program provides free medical care, follow-up care, and prescriptions through a full-time nurse practitioner and a volunteer doctor.

Last season, 129 people were treated for a total of
343 visits and 115 prescriptions were written and filled.
Like the shelter program, the nursing program is now a full-time, year-round one, which will lead to more people in need of medical care receiving it through our nurse practitioner. In addition, the nurse practitioner will oversee the new Medical Respite Program, which provides five private beds for patients in need of additional recovery who are discharged from an area hospital and have no home to go to.
Provides free medical care, follow-up, referrals for specialty care, medical respite, and prescriptions through a nurse practitioner, registered nurse and medical assistant. In addition, the nurse practitioner oversees the Medical Respite Program, which provides five private beds for homeless patients in need of further recovery who are discharged from area hospitals. In addition to onsite nursing services, PathForward is also in the process of building its Community Medical Mobile Unit, which consists of a team composed of a street outreach worker, nurse and if needed, a member from Arlington County Government's Behavioral Health team. This new service will also help to build necessary trust between clients and PathForward team members.
Supportive Daily Services
PathForward provides supportive services at the Homeless Services Center, 24/7, year round.
Arlington's Homeless Services Center (HSC) is more than a shelter. It houses all our services under one roof throughout the year. At the HSC, homeless individuals and veterans can sit in the cafeteria and eat three healthy meals daily prepared by our chef. They can get a warm shower, or take a job training or computer class. They can see a case manager and work on getting disability benefits, mental health care or housing. All these supportive services combined with the Medical Respite Program make the HSC a first-of-its-kind in the DC Metro area. Through the work of a full-time nurse practitioner, clients have access to equitable care, both managed and follow up, speciality treatment, and life-saving prescriptions. Clients exiting hospitals in need of recovery can stay in one of five private Medical Respite rooms. Through our Outreach Program, we extend medical services to Arlington's streets.
For general questions, please email or call David Ordonez
at dordonez@pathforwardva.org or (703) 228-7901.
To learn more about specific programs, click the links below:

PathForwards's Day Program
Homeless persons are able to take a shower, get a meal, use a phone, get their mail, do laundry, see the nurse practitioner, and should they choose, engage in case management to apply for benefits, explore housing options, develop job skills, or seek employment. Thanks to classroom space and the contributions of volunteers who share their expertise, PathForward provides a number of daily activities through the day program including life and job skills coaching, job search assistance, health educational classes, computer training, exercise classes, and art and animal group therapy
Through the Day, Street Outreach and Homeless Bagged Meal Programs, volunteers and staff distribute over 40,000 meals annually. More

Commercial Kitchen
The Homeless Services Center is home to a full service kitchen manned by PathForward chef Glenn Jahnsen. Neighbors in need can receive a healthy and balanced breakfast, lunch and dinner. Clients who work also have the option to take a bagged meal with them to their jobs.

Employment Services
Programs include street outreach, case management, employment counseling, the Permanent Supportive Housing Program, Homelessness Prevention Program, and the Rapid Re-housing Program. PathForward's Day Program is designed to assist clients in addressing their personal barriers to self-sufficiency with the support of staff and volunteers. Day Program hours are Monday-Friday 9 am to 4 pm. More
PathForward operates the Homeless Services Center for Arlington County. The Center is located one block from the Courthouse Metro stop at 2020-A N. 14th, St. Arlington, VA 22201. This shelter is for single adults only and guests will be asked for identification.
The year-round shelter program offers sleeping arrangements for up to 80 people per night (55 shelter beds, 5 medical respite beds, and 25 additional beds from November – March during hypothermia season), provides three daily meals, shower and laundry facilities, and access to case managers and medical services.
For questions about the Shelter Program, please call (703) 228-7802 or visit:

Shelter Program – This program offers sleeping arrangements for over 50 people per night, provides three meals daily, showers, laundry facilities, and access to case managers and medical services. Services including food, shelter, full-time nurse practitioner and medical respite program, counseling and job training are also offered.
PathForward services begin with street outreach. Street Outreach team members frequent wooded areas, parks, underpasses, abandoned buildings and other areas to meet with homeless people where they live. Street Outreach Staff  distribute items such as clothing, blankets, bottled water, personal hygiene items, and medical kits to people in need, people they initially find or those they regularly see.The provision of these items helps staff build relationships with clients over time, and then help them access higher-level services.
To learn more about specific programs, click the links below:
Street Outreach – Street Outreach workers locate people living on the streets, provide life-sustaining items and encourage people to access other services.
Homeless Bagged Meal Program – PathForward provides meals at one Arlington location 365 nights a year, regardless of weather.